I've been working... some
I have been working on Clapotis... some... Granted not as much as I'd like but I'm doing the best I can. I'm making some progress. I'll just be happy to get done with section 2. I think I still have 6 more repeats. ACK!!! But it's going to feel so good in my classroom and at recess to just wrap it around and go... So I must press on to my end goal... But I'm working on it.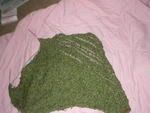 And as a final note, I just bought the yarn for the Weekend Satchal from IK. At least it's on big needles so hopefully that will help... I think I'm going on a knitting vacation soon. Just me, my yarn and a nice hotel room with room service... You think I'm kidding. You'll see...